We Help You Renovate and Improve your Sydney Home
Where a quality finish means everything
At Prospace we love improving homes because it helps our clients turn their house into their dream home. Whether you want to redesign an existing layout, renovate your bathroom, en suite, laundry or kitchen, we would love to help you with perfect home renovations in Sydney.
You may be reading this because you have some ideas about how you like to change your home but you may not know where to start. At Prospace we provide you the full service – consultation, planning and building.
Our process includes:
Enquiry – contact us right now
Consultation and obligation free quote – we will give you a professional advice free of charge
Budgeting – we help you set an informed budget for the project
Design and planning – we get to know what you like about your home and design what's on your mind. We then plan how to make your dream come true!
Renovating – Once the design is passed through council requirements, we commence shaping the home of your dreams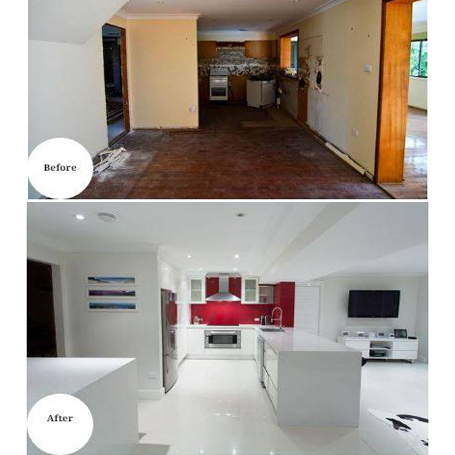 Types of renovation that we do:
Existing layout re-design: whether you've outgrown your family, need a space for an office or are simply tired of the current layout of your home, renovation could be the answer. We can help you change your existing floor plan to build a home you love without moving from your favourite spot.
Bathrooms and en-suite: we help you build the bathroom and en-suite that you deserve. During our consultation, we learn about your taste, design preferences and space requirements to make sure we transform the space to what you and your family want to call home.
Laundry: have you ever wondered why laundries are so small even though they're one of the main work centres of a home? We can offer you solutions to maximize the storage space to help you do the household chores more comfortably.
Kitchen: whether you need new kitchen cabinets or a new modern design for your kitchen, we're here to work with our network of suppliers to help you.