Building a Granny Flat in Your Sydney Home
Want to build a granny flat?
Whether you're thinking about getting some rental income from tenants, you want a guest house, home office or building for the elderly, we can help you from the planning and design stages to construction. We're a one stop shop!
ProspaceConstructions can help you with different types of granny flats in Sydney to suite your budget, the area you live in and your existing home specifications. We're flexible when it comes to design and materials and can provide you our professional advice to make an informed decision. Here are a number of different granny flats construction types that we've helped our Sydney clients with:
Double brick construction – with Roof Tile, Gable Roof or Hip Roof. This option is durable, requires minimal maintenance over time, has great sound insulation and is perfect to keep a house cool in summer and warm in winter days.
Brick veneer construction – with Colourbond Roof or Roof Tile. This option will provide you the same aesthetic appeal as a double brick granny but with a lower build cost.
Cladding – with Colourbond Roof or Roof Tile. This option is suitable for smaller budgets and is recommended for sloped areas and high ground levels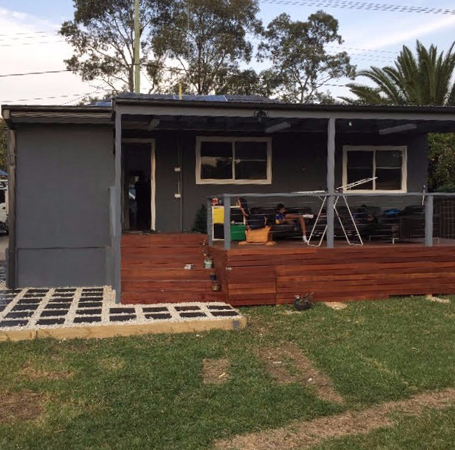 The finishing and material of this space depends on your taste and the existing house. Whether it's brick, rendering or any other finish that you have in mind, give us a call today to discuss a wide variety of options.